About Vince


Vince Liaguno is an award-winning writer, anthologist and editor, and an occasional poet.
Vince won the prestigious Bram Stoker Award for UNSPEAKABLE HORROR: FROM THE SHADOWS OF THE CLOSET (Dark Scribe Press 2008), an anthology of queer horror fiction, which he co-edited with Chad Helder. His debut novel, 2006's THE LITERARY SIX, was a tribute to the slasher films of the 80s and won an Independent Publisher Award (IPPY) for Horror and was named a finalist in ForeWord Magazine's Book of the Year Awards in the Gay/Lesbian Fiction category.
Vince began writing professionally in 2005 for AUTOGRAPH, a national print magazine for enthusiasts of the titular hobby, where he remained an active contributor through 2009. In 2007, he launched DARK SCRIBE MAGAZINE, where he has remained Editor-in-Chief since the virtual magazine's inception. His many profiles, interviews, and non-fiction pieces have included bestselling authors (Christopher Rice, Bentley Little, Tess Gerritsen, Chelsea Cain), award-winning actors (Julianne Moore, Kathy Bates, Philip Seymour Hoffman, Meg Tilly), music artists (Cyndi Lauper, Terri Nunn of Berlin, the late Laura Branigan), and pop culture retrospectives on TV series such as MELROSE PLACE and WILL & GRACE. A complete list of Vince's published work can be found here.
Born in Easton, Pennsylvania, raised in the Princeton area of New Jersey, he now calls the south shore of Long Island's eastern end his home. He is a member — and former Secretary — of the Horror Writers Association (HWA) and the National Book Critics Circle (NBCC).
Author Q & A:
Q: How did horror come to be your chosen genre?
A: I'm less certain that I chose horror; I think horror chose me. Truthfully, from as far back as I can remember, I was drawn to all things dark. As a kid, my earliest recollections of being terrified were watching made-for-TV movies from the 70s like DON'T BE AFRAID OF THE DARK, GARGOYLES, and TRILOGY OF TERROR. I can still remember damn near pissing myself when that little African tribal doll from the latter chased poor cross-eyed Karen Black around her apartment! (laughs)
As I got a little older, my Dad would take me to the movies as part of our weekend "buddy days". They were usually Irwin Allen disaster flicks or movies with a lot of car chases, but then a little film called JAWS was released. I was eight-years-old and can still feel the knot in my stomach the first time I heard the first notes of the film's now-legendary theme music. I think I only made up to the point that skinny-dipping Chrissie gets slammed into the buoy before I pleaded with my Dad to leave. It would take three subsequent tries before I could make it through the entire film, each time making it a little further into the film before my ever-patient father heard the desperation of the "Please, Daddy…can we leave now?" in my voice. JAWS was a rite of passage for me; it was the first time I needed to summon and sustain any sense of real bravery. When I finally saw those end credits, it was a mark of accomplishment…a hint of manhood, if you will.
1978 was a game changer for me — the cusp of adolescence and the release of John Carpenter's HALLOWEEN. If JAWS hooked me, HALLOWEEN reeled me in and cemented what would become a lifelong adoration of both slasher films and a certain actress named Jamie Lee Curtis.
Q: Did this early love of horror films also translate to reading?
A: Definitely, although my taste in dark fiction was a little more mixed and expanded beyond straight-up horror. My earliest recollections of reading are of systematically devouring all of the Hardy Boys books, followed closely by the Nancy Drew series. I'd spend summers propped up under a huge oak tree in our backyard reading every single Agatha Christie mystery novel, enthralled with the ingenuity of the murder set pieces and the complexity of the whodunit. Early horror favorites included Robert Bloch's "That Hellbound Train" from one of those delightfully ghoulish Alfred Hitchcock anthologies, and I can still remember being positively mesmerized by Peter Straub's SHADOWLAND, one of my all-time favorite books. It's probably cliché for a horror writer to also cite the works of Stephen King as early influences, so we'll just chalk that one up as an unspoken given, yes?
But I think it was Jack Ketchum's OFF SEASON that really made the most indelible impression…you know, that one pubescent moment when your jaw goes slack, your armpits moisten, and your mind struggles to grasp the adult concepts the adolescent mind is on the cusp of understanding. There was simply no other work that conveyed the naked brutality of horror better than Ketchum's OFF SEASON to my young mind. I credit that book – along with Straub's SHADOWLAND and Christie's AND THEN THERE WERE NONE – for inspiring any literary aspirations that followed.
Q: Slasher films have had a huge influence on your fiction writing…
A: Absolutely. I've ingested so many slashers since seeing HALLOWEEN at the age of ten that the formula just creeps naturally into my work. There's something very methodical about the slasher formula, something almost comforting as a writer. My first novel, THE LITERARY SIX, was really a hybrid of Christie's AND THEN THERE WERE NONE and the slasher flick APRIL FOOL'S DAY, with cozy elements of the classic whodunit blended with a grittier slasher reality. I have a great affection for the slasher film, and I attempted to pay homage to the genre with LIT6 (the book's Internet dubbing). I was fascinated with the idea of updating the teenage slasher experience when I sat down to write the book, wondering what would happen if the characters within the story had aged along with the audience. How would their adult minds cope with the onslaught of slasher violence? What new or better developed skills would they bring to the table in warding off evil? What would the effects of the violence be on the survivor(s)?
I suspect that future works may continue that exploration of a classic whodunit mood integrated with a slasher aesthetic. One of the best blurbs I got for LIT6 cited it as "the book Agatha Christie would have written if she married John Carpenter", so I'm hoping that the English cozy-meets-slasher film hybrid will become my genre niche. (laughs)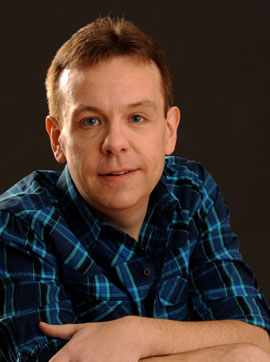 Q: Care to share something about your next novel?
A: You mean other than the fact that I have the most patient readers in all of mankind?  Honestly, they're wonderful, waiting this long for a follow-up to LIT6. But I think I have literary attention-deficit disorder, getting easily sidetracked and distracted with editing and anthology projects. (laughs)
Actually, I've been working on books two and three simultaneously for some time now, but I'm making a conscious effort to focus solely on the second right now. This book is a bit of a departure for me in terms of leaving the slasher aesthetic behind for a bit, but I'm loving the exploration of some weightier themes—namely, aging and the lengths to which we're willing to go in our society not to. In the novel, a forty-something social worker relocates from Boston to the small town of Barberry Cove, Maine, after a particularly devastating break-up with his partner of ten years when he catches him in flagrante with a much younger man. He takes a job at a very posh nursing home called The Fountains—almost more like a spa—and soon joins forces with an undercover reporter posing as a Department of Health inspector to investigate the mysterious deaths of the nursing home's residents. But the nursing home's austere administrator and the rest of Barberry Cove seem hell-bent on protecting the secret of The Fountains. I've always wanted to do one of those small-town evil stories with a large ensemble of characters; I think anyone with an affinity for King has one of these inside them somewhere that needs out eventually. In terms of cinematic influences, think THE FOG, INVASION OF THE BODY SNATCHERS, DEAD & BURIED, and VILLAGE OF THE DAMNED all thrown into a blender.
Q: Cinematic influences seem to play a big role in your writing —both fiction and non-fiction. Your latest editing venture, BUTCHER KNIVES & BODY COUNTS, really brings your love of slasher films, in particular, full circle.
A: Nice segue! Yes, BNBC is a true labor of love. The book tops out at nearly 500 pages and features a collection of essays by a variety of slasher movie historians, film directors, actors, writers and editors, and bloggers – all fans of varying degrees – about this oft-maligned genre. It's truly a remarkable collection if only for the variety and depth of the essays — a real celebration of the formula, frights, and pure fun of slasher film and all that it has meant to an entire generation of fans. It's been an absolute joy putting this collection together, and I think it's a one-of-a-kind project that I'm hoping will resonate with a lot of film fans.
Q: Speak a little, if you would, about the UNSPEAKABLE HORROR series of anthologies.
A: One of the first people who reached out to me after THE LITERARY SIX was released back in 2006 was an author and poet named Chad Helder. Like many LGBT horror fans, he had long felt underrepresented as a gay man in the genre and was drawn to the gay and bisexual themes and characters of my novel. To make a long story short, we developed a virtual friendship and Chad asked me if I'd be interested in contributing to his queer horror blog, aptly named UNSPEAKABLE HORROR. Of course I jumped at the chance. About a year later, just as I was preparing to launch Dark Scribe Press, the idea struck me that UH moniker would be the perfect anchor for an anthology series — much in the way Michael Rowe's idea for the groundbreaking QUEER FEAR anthologies was. I asked Chad if he'd like to co-edit with me, we developed submissions criteria and put out the call. Thus, the UNSPEAKABLE HORROR brand was born and the rest, as they say, is history.
Q: In this case, literal history.
A: Yes, the first volume of the UNSPEAKABLE HORROR anthology – FROM THE SHADOWS OF THE CLOSET – went on to win the prestigious Bram Stoker Award for Superior Achievement in an Anthology. It was the first time in the sponsoring organization's 22-year history that an expressly LGBT-themed anthology had ever won. I can still remember getting back to my hotel room late at night following the awards banquet and after-parties and turning on my computer to, literally, hundreds of congratulatory emails and Facebook postings. Fellow writers from both the horror and LGBT literature circles, authors I look up to and admire immensely, were offering their heartfelt congratulations from around the globe. It was at that moment when I realized Chad and I had accomplished something remarkable.
Q: Remarkable in the sense that horror is largely seen as a conservative genre?
A: Yes. Think about it. Horror mostly deals with what happens when the perimeter of normal – or tradition – is breached. When one of the characters in a horror story ventures outside the fenced-in area of the customary. Stephen King wrote in DANSE MACABRE that "the horror story, beneath its fangs and fright wig, is really as conservative as an Illinois Republican in a three-piece pinstriped suit; that its main purpose is to reaffirm the virtues of the norm by showing us what awful things happen to people who venture into taboo lands." And if you think about your favorite horror books, films, and TV shows, isn't that true? It's ironic because horror usually gets such an incredibly bad rap for what's perceived as its indulgence in the carnal and violent, yet there's most often a lovely conservative moral to wrap the whole affair up in the end.
The stories we select for our UNSPEAKABLE HORROR anthologies subvert this moral conservatism by making the repression or suppression of non-heterosexual orientation and/or the effects of such the actual taboo. Call it our queer horror agenda. (laughs)
Q: Remaining on a philosophical track for a minute, what do you think it is about horror that appeals to people?
A: To regurgitate a well-worn cliché, horror is like a roller-coaster. There's that build-up of anticipation followed by the thrill of the release. Horror, on this physical level, is another activity through which endorphins and adrenaline can be released, and we derive a pleasurable physical sensation from both, much in the same way we do from exercise and extreme sports.
Personally, I'm more interested in horror and how it affects our subconscious. Life can be scary, the world a dangerous and frightening place in which to live. In many ways, horror is cathartic, providing a safe haven in which to explore and process the ugliness of life within the confines of a movie's running time or the length of a book. If you notice, the popularity of horror is cyclical, its surges in popularity often running parallel to unrest in the world. Horror, and dark fiction in general, is an outlet like any other escapist genre – romance, mystery, thrillers, westerns, science fiction. It can take us – the participant – out of the larger, scarier world around us and transport us, temporarily, to a place where we can subconsciously process our real, everyday fears in the comfort of our fantasies and imaginations.